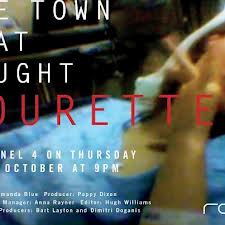 The documentary "The Town That Caught Tourettes" did its job of alerting people to this condition, and it also reached out to people like me, who've had first-hand experience with it. So, as far as that was concerned, I liked it.
But I'm not sure how much I liked some of the other stuff in it. The title for one thing. I realize they didn't literally mean that Tourettes can be "caught" and only used that title to point out the unusual clusters in which it was recently discovered. But it was somewhat misleading.
I also didn't like the fact that right from the start you get the feeling that we're looking for someone to blame and boy are they gonna pay. The distraught parents just aching to accuse someone – anyone.  And then the researchers and experts whose opinions, while hazy and overly generalized, were nevertheless passed as "knowledgeable" and with utter conviction.
They also keep referring to it as "Tourettes-like" symptoms. So they know it's not Tourettes then but something "like" it! Pity the fools.
I can't find a copy of that film online so I don't remember any of the names or the exact quotes but I do remember this one particular lady doctor who confidently proclaimed "transference" (i.e. converting some traumatic experience into tics – in other words, a purely psychological mechanism). She was unshaken in her conviction as so many would-be experts are. Or that reporter who saw a chance to dig – and she dug away into the families' private affairs "exposing" supposedly dark pasts that were no doubt responsible for all that transference.
One of the troubles with career scientists (as well as career politicians) is not that they don't know. It's that they know something that ain't so. I think Josh Billings said that.
So, shall we blame the wicked families and send someone over from social services? Or shall we blame the corporations who polluted the area? Blame someone? Anyone?
I think I most liked that doctor who thought that this could be caused by some kind of a viral throat infection which then morphed into this strange condition. I didn't quite agree with him, but at least his argument had an air of deeper consideration and it did correlate with some of my experiences and tentative suspicions as well.
By far the most powerful impression were the kids themselves. Young, pretty girls – caught in this inexplicable nightmare. Like birds caught in a cage.
And there's the question: why did their cases all "cluster" in one town?
Were they copycatting each other? I certainly don't believe that. The "inexplicable cluster" only makes sense if it's taken out of broader context. After all, the documentary didn't reveal if they looked for other similar "inexplicable clusters" in other towns, nor did they consider the possibility that only in this town did the parents all get together and went to the media with their story. There might be many others just like them, but they're just not talking – yet. Or maybe it is a cluster, but why does it "have to" have a special significance? Shit happens, doesn't it? That's the trouble with documentaries like this – they don't have enough time and resources to actually do some real research.
Another strong impression was the role of the parents. One of the mothers let her daughter miss school on account of this – a critical mistake in my opinion. I understand her – but it's a mistake nevertheless. The film gave me the impression that she's isolated and suffering by herself, probably driving her mom – and herself – crazy in the process. Another mother clearly looking for someone to blame. Confusion all around. Tension.
But no REAL theories put forward.
So – I'll do my best to give you some of my insights within these pages. Although they're limited to only the one case study – my own – they're bound to be more objective than the stuff these people put together.
I've avoided talking about my Tourettes experience for far too long.
Footnote:
After I launched this site it occurred to me to check out what kinds of comments there might be on the web about this documentary. There are loads, including full-feature write-ups in leading newspapers. The most amazing thing about them is the number of blind, STUPID comments by pseudo-intellectual illiterates who think these girls are just "cuckoo" and it's all for show. When I find a little extra time, I'll dig deeper into this and write a rebuttal (especially some UK tabloids took this angle to town, and they need their dumbass writers slapped). Stay tuned.